Due to ever-increasing technical problems with Tripod and their rather flaky FrontPage server,
The You Don't Know Jack Green Room has temporarily moved to GeoCities
so we can still provide you with a rather current, updated-when-needed site.
You can always access the site at www.bigfoot.com/~ydkj, so update your links.
Click there to get bounced to the new site at GeoCities.
In the meantime, enjoy this placeholder site.
The Netmagic Staff
---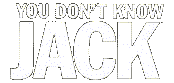 ATE MY BALLS!!!





---